CROWN GCX-2-10 Compartment Steamer with Kettle and Gas Steam Boiler 2 Compartment Steamer and 10 Gallon Kettle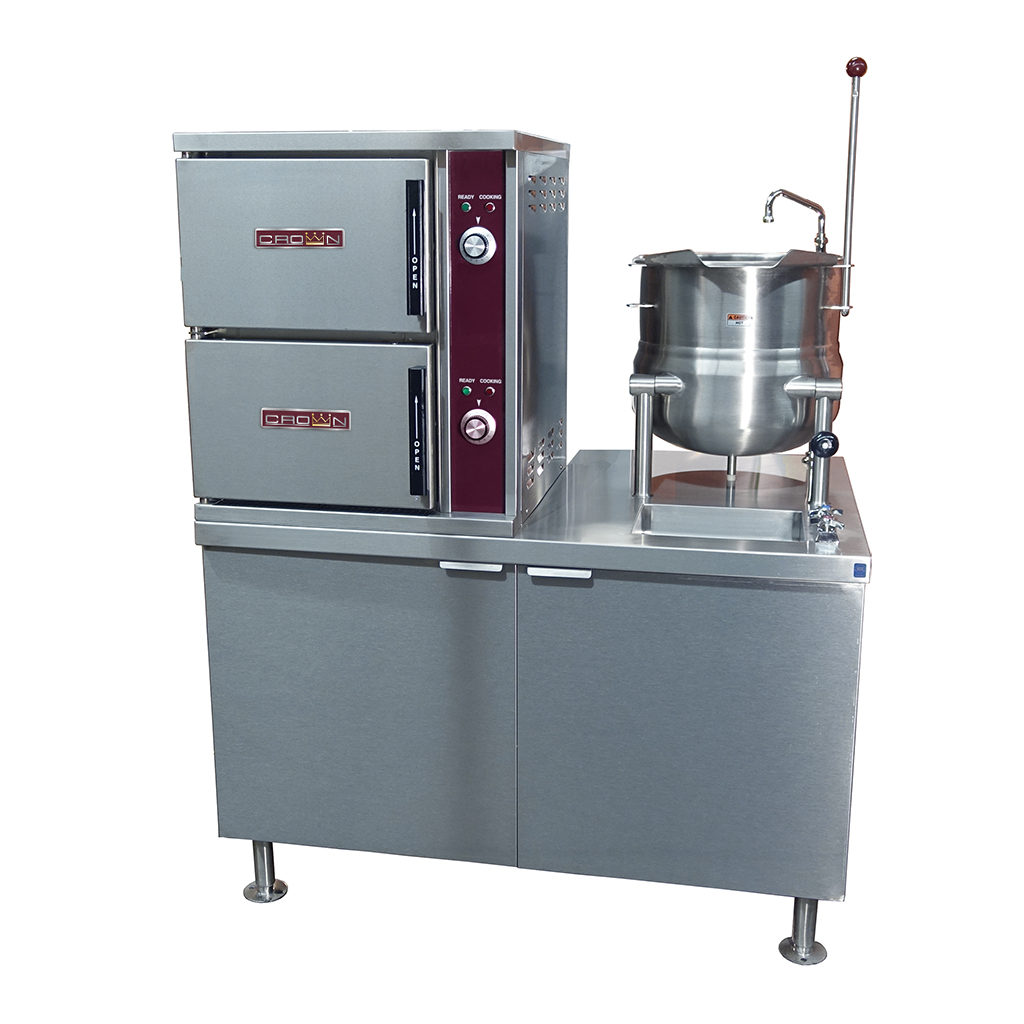 CROWN GCX-2-10 Compartment Steamer with Kettle and Gas Steam Boiler 2 Compartment Steamer and 10 Gallon Kettle
New - Cosmetic Damage

-

Scratch and dent
This line of Crown convection steamers come complete with 6 or 10 Gallon Kettle on a modular gas fired steam boiler base, with stainless steel type 304 exterior and #4 finish, deck mounted faucet valve, swing nozzle and integral sink with common drain.

The convection steamer has doors with a removable inner liner of stainless steel, full perimeter gasket seal, outer shell of one piece, all welded stainless steel, positive lock and seal mechanism and a stainless steel drip trough connected to the drain in order to collect condensate when doors are opened. Each cooking chamber is constructed of all welded type 316 stainless steel, fully insulated and provided with removable stainless steel pan supports and dimensions:

GCX-2: 13.875"W x 10.875"H x 19.875"D (352 mm x 276 mm x 504 mm)
GCX-10: 13.875"W x 17.375"H x 19.875"D (352 mm x 441 mm x 504 mm)
Steamer controls shall be accessible through a fully removable side panel and each compartment shall include a 60 minute mechanical timer with ready and cooking pilot light and shall interrupt steam flow to the chamber when the compartment door is opened during cooking cycle and shall be reactivated when the door is closed. An audible signal will sound at the end of the cooking cycle.

The cabinet base with gas boiler and controls shall be provided with full perimeter painted angle frame, reinforced kettle and boiler mountings, hinged doors with magnetic latch and 6" (152 mm) stainless steel legs fitted 4 adjustable flanged feet on the front for securing unit to the floor. Boiler controls shall include automatic water level control, pressure gauge, water gauge glass, operating pressure control, safety high-limit pressure control, and safety relief valve. The boiler shall be ASME code stamped and National Board registered. Unit comes standard with a water treatment system, split water line, CSD-1 boiler controls, electronic ignition, and automatic blowdown.
Warranty

90 day warranty

Shipping

Contact Seller

Returns

Contact Seller

Seller

Toronto,

,

North Carolina

48708

Seller Ref
dealex Ref

LIST/00345

,

Cancelled